Content monetization tool for creators
Pay-per-view video streaming service - revenue starts with the first user.

Create event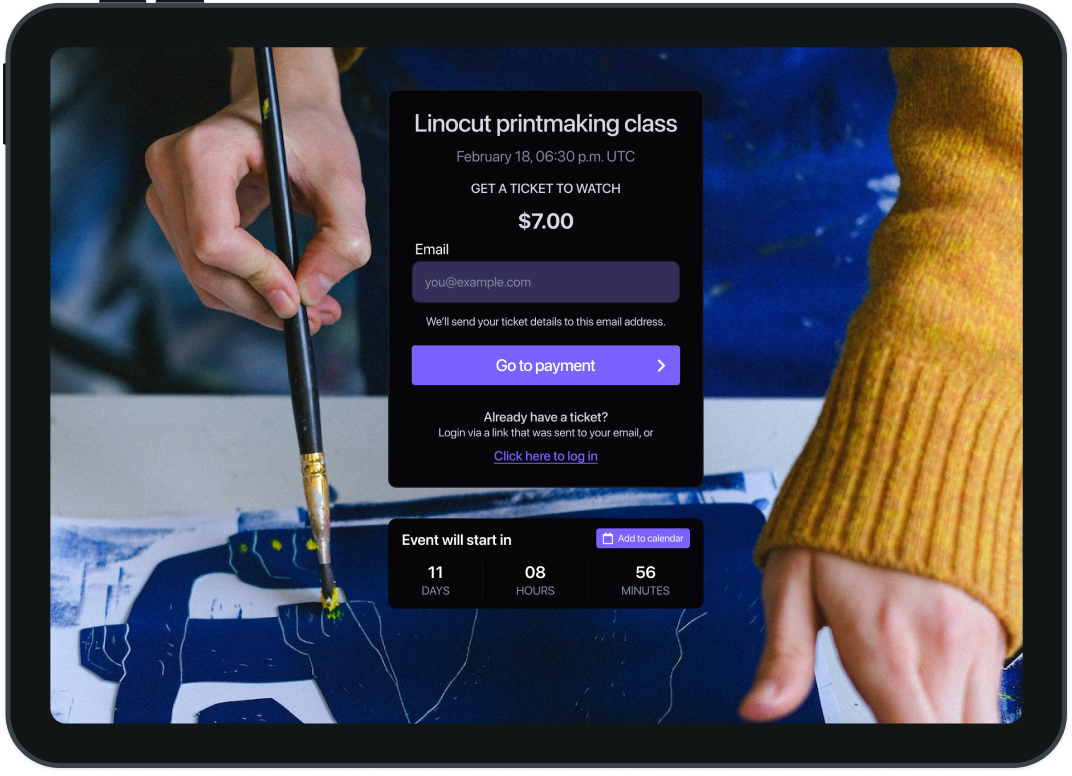 Concept
Upload or stream
Prepare content for live streaming or upload video on-demand
Host event
Create a pay-per-view event with a few clicks
Receive payments
Share the link to event and sell tickets directly
How it works
1. Prepare content, specify the price
Upload content or connect cameras and streaming equipment.
Create a web player in Callaba and specify the cost of the ticket for a pay-per-view option.
2. Embed the web player
Copy and paste the embed code to your website.
3. Invite audience
Invite your audience to partake in your event. Viewers can purchase access and watch your streams in high quality using any browser and any device.
4. Host your event and earn revenue
As your viewers buy access to watch your content - you generate income.
Benefits
No investments to start
Don't waste time on complex settings or software development.
Our consultant will contact you to set everything up at a convenient time.
Keep 100% of the profits
We do not charge any commission on payments from your customers.
We only charge maintenance fees for the service.
Revenue starts with the first user
Pay-per-view model is easier than making money on YouTube and similar platforms, since you don't have to spend a lot of time building an audience.
Set up the price yourself.
callaba's platform & cdn
Ready-to-use content monetization platform
Don't want to deal with the technicalities of streaming infrastructure?
We've got you covered. We will prepare the infrastructure and give you simple instructions about where to send your streams, plus the code to embed on your website.
We do the technical part, so you can focus on your content.
Your infrastructure would be ready within 24 hours
Worldwide coverage CDN
Profits begin as soon as your first customer buys a ticket

self-hosted solution
Monetize content in your own infrastructure
Have your own infrastructure?
Get a self-hosted solution with the Pay-Per-View functionality. Self-hosting gives you complete control over your content and revenue.
Plus, you can save on data-transfer fees.
Total control over your content and revenue
Deploy on any infrastructure
One-time payment for a perpetual license
Start working with us
Our goal is to find the optimal conditions for each client, no matter what the task may be.